Motorola T80 Extreme (Twin Pack ) Walkie Talkies (This product is no longer available - please call for advice)
Motorola T80 Extreme (Twin Pack ) Walkie Talkies (This product is no longer available - please call for advice)
£58.99 Ex. VAT
£70.79 Inc. VAT
PRICE PROMISE
We are confident that should you find any price online that is lower than the price displayed on this website and of course is a genuine website selling like-for-like products (not Grey Imports) then we will endeavour to match or even beat that price.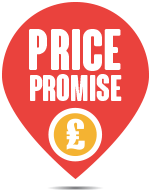 Please send a link or contact us with details of our competitors prices along with your contact details and we will verify the price and contact you.
This excellent radio pack has the ultimate specification, rugged and all-weatherproof. The Motorola T80 Extreme is ready for adventures in the harshest of environments on the highest peaks and the wildest treks. It has a tough water resistant design (IPx4 standard) and is supplied with essential accessories (avoiding further cost buying them at a later date) and is supplied in a smart protective travel case.
Key Features
PMR446 radio is licence free - Free calls.
Range 10 Km in ideal operating conditions (see FAQ regarding range on radios.)
Rechargable NiMH battery pack (included.)
Can also be used with 4 ordinary AAA batteries (not included.)
8 channels and 121 codes
Scan / Room Monitor
10 call tones
Can be used hands free when set in VOX (voice acivated mode) must be used inconjunction with VOX headset (not included see accessories below)
LED torch / Stopwatch
Weather proof to IPx4 standard
Has earpiece jack socket
Vibrate facility
LCD display and backlight
Keypad lock
Battery level indicator
Belt clip, Carry loop and protective travel case
Roger bleep
Key pad tones
Group call
Weight per handset (no battery) 140g
Dims 5.7 x 17.3 (inc antenna) x 4cm
Pack supplied includes;-
2 Handsets
2 Earpieces with boom mic (which requires the PTT button on the radio handset to activate the boom microphone.) It does not have an inline microphone. Cannot be used in VOX (to use VOX you need a to buy the overhead VOX headset separately.
2 belt clips
2 carry loops
Twin desk charger
2 NiMH battery packs
All supplied in a protective travel case
You may also need: