Motorola T61 (Quad Pack) Walkie Talkies
Motorola T61 (Quad Pack) Walkie Talkies
Product Code:
motorola t61 quad pack
Availability:
In Stock
£79.00 Ex. VAT
£94.80 Inc. VAT
PRICE PROMISE
We are confident that should you find any price online that is lower than the price displayed on this website and of course is a genuine website selling like-for-like products (not Grey Imports) then we will endeavour to match or even beat that price.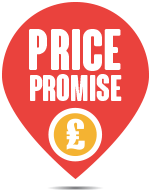 Please send a link or contact us with details of our competitors prices along with your contact details and we will verify the price and contact you.
* Please note we do not recommend these radios for business use only leisure/recreational usage.
The Motorola TLKR T60 (or T61 quad pack) walkie talkies lets you have free conversations using an original and styish modern designed walkie-talkie with the all the usual features you would expect from Motorola 2-way radios. It is the ideal way to stay connected for outdoor activities, with arange of up to 8km*. You do not need a licence and it is easy to use. The voice activation function makes it even more practical (when used inconjunction with VOX headset.) The recharagble battery packs supplied in the pack can also be charged independantly to the radios allowing you to still use your radios with ordinary AAA batteries when the rechagable packs have run down and need recharging which can be very useful. All Motorola PMR446 radios such as the T60 radio will communicate with each other as long as they are all on the same channel and sub channel (code.)
*The indicated communication range is based on optimum conditions of a space without obstacles. Various factors such as terrain, climate conditions, electromagnetic interference, physical elements (walls) can mean the range varies.
NB to make the QUAD pack 2 x T60 twinpacks are supplied, each pack includes;- 2 x T60 Handsets, 2 x rechargable NiMH battery packs, Twincharger and 2 x belt clips.
Features:
Up to 8km range
Unlimited number of simultaneous users
Frequency band: PMR446 - license free
8 channels, 38 sub-channels, 121 codes
Scan/Monitor function
Vox function: hands-free voice activation
Keypad lock
Battery status indicator
Belt clips
Rechargable NiMh batteries (included) or 4 x AAA batteries (not included)
Headset port
Twin desk top charger
5 call tones
Back-lit LCD display screen
Automatic disconnect function
Size: 5.5 x 16.5 x 3cm
Weight: 103g (without batteries)
NB;- Please note when stocks of T60 are short we may supply the T61 pack instead, this is exactly the same equipment supplied as the T60 but supplied in boxed retail packaging rather than Blister Packaging.
You may also need: