Motorola T80 (Twin Pack) Walkie Talkies
Motorola T80 (Twin Pack) Walkie Talkies
£58.50 Ex. VAT
£70.20 Inc. VAT
PRICE PROMISE
We are confident that should you find any price online that is lower than the price displayed on this website and of course is a genuine website selling like-for-like products (not Grey Imports) then we will endeavour to match or even beat that price.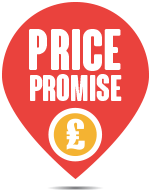 Please send a link or contact us with details of our competitors prices along with your contact details and we will verify the price and contact you.
* Please note we do not recommend these radios for business use only leisure/recreational usage. All leisure radios are designed for occasional use and for short durations only.
The Motorola T80 includes all the functions that you need to communicate in out and indoor environments, and is bursting with functionality.
The Motorla TLKR T80 lets you have free conversations using an original and stylish modern designed walkie talkie with all the usual features you would expect from Motorola 2-way radios.
This robust license free 2-way radio with a splash proof exterior is easy to use and has a range of up to 10km* (see our FAQ section about how range is achieved on radios) a useful built-in torch and 8 channels making it ideal for outdoor activities.
Pack Includes;- 2 x T80 handsets, 2 x NiMH rechargable battery packs, twincharger and 2 x belt clips.

Features:
Caller ID
Group calls
8 PMR446 channels with 38 sub-channels and 121 codes
LED torch
Splash resistant
10 call tones
Back-lit LCD screen display
Headset port
Scan/Monitor function
Keypad lock
Mute function
Battery level alert
Automatic change of channel
Vibrate alert
Stop watch
Rechargable NiMh batteries (included) or 4 x AAA batteries (not included)
Battery life in standby: approx. 16 hours with supplied NiMh batteries
Twin desk top charger
Weight: 140g without batteries
Size: 5.7 x 17.1 (inc antenna) x 4 cm
You may also need: