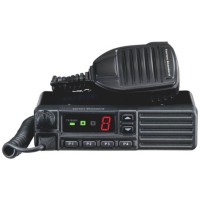 Mobile Radios for Businesses
Crystal Radio Systems are the leading online suppliers of taxi radios. Should you wish to discuss your specific requirements then please call one of our sales staff on freefone 0800 028 6261. Please note our prices include free programming. Price Promise on all mobile radios!
What is Mobile Radio?
Mobile radio is a product established by the European Telecommunication Standards Institute under the international modern radio standards. Mobile radios were first launched in the year 2005 and their popularity has continued to grow across many countries in the world. Known for their improved voice quality, functionality, security, and channel efficiency, mobile radios offer modern, affordable, and useful techniques to run various operations. The good thing is that they are portable, unlike CB radios, and you can carry them around.
What's the Difference Between a Radio and a Mobile Radio?
The mobile radio has improved communication across numerous sectors. This has entirely extensively simplified communication processes. Significant differences between the analogue radio and mobile radios are seen in terms of usage and their capacities. Here are some of the differences we have identified between a radio and a mobile radio.
Coverage
Compared to an analogue radio, mobile radios have a much better coverage range. They also have high-quality audio.
Doubled Capacity
The bandwidth capacity is what also makes a radio different from two way mobile radios. In an analogue radio, one can only use the entire bandwidth for only one talk path. On the other hand, the mobile radio system allows you to make multiple simultaneous calls through the same bandwidth.
Clear Audio
When considering good audio quality, then a mobile radio has the best audio compared to an old school radio. The advanced algorithms of mobile radios reduce background noise enabling quality audio.
Data Capabilities
A digital mobile two way radio data capabilities make it better than the analogue radio. Features like text messaging, radio programming and advanced security is a clear indication of the suitability of mobile radio.
Improved Security
With the increase of cybersecurity threats today, security is key to any business that involves numerous communication activities. With a mobile radio, you don't have to worry about security as one can encrypt all their communications. However, a standard radio does not have these security features.
Different Types of Mobile Radios
There are different categories of two-way mobile radios. They include maritime mobile radio, land mobile radio, satellite mobile radio and aviation mobile radio. All these types can be used in different brands like Motorola.
What Are the Uses for a Mobile Radio and Who Would Use?
Digital mobile radios can be used both for data and voice communication, remote monitoring, external network interface, call alerts, radio checks and emergency calls. Mobile radios have wide usage in different industries. These include construction, film production, transportation, events, security, auction houses, banks, retailers, hospitality leisure and hospitals.
What Are the Advantages of using a Mobile Radio?
-Multiple conversations on a single channel
-Reduced bandwidth consumption
-Improved test messages, unit ID and status button
-Ability to transmit digital signals
-Advanced algorithms to reduce background noise
-Advanced software applications
What Are the Disadvantages of Using a Mobile Radio?
-It may take time for beginners to learn the use of a mobile radio
-Sometimes signals may drop in error when there is too much noise
Buy Walkie Talkies Online
Having been supplying two way radios to both the leisure and business sector for nigh on 20 years we've seen so many new uses for them as the market has gone from strength to strength.

In Business
Business users are no longer restricted to taxi firms and the emergency services. More and more companies are realising the value of being able to keep in touch with employees without relying on mobile phone coverage or their proximity to a land line.

For example, a group calling feature can be useful to businesses such as shops and garden centres. Cleaning staff or assistants can be paged as part of a group and directed to where their services are required – regardless of where on site they are currently. Managers can also be summoned discretely to deal with issues without paging the entire complex.

Construction companies make use of hands free operation as it allows workers to communicate about a project when they are out of earshot or their voices would be drowned out by the sound of machinery.

Leisure Use
It's not just businesses that benefit from high quality two way communication. Many leisure activities take you away from the stresses and strains of modern life and that also means out of range of mobile telephone communications.

A family group, camping in the hills, could decide to go for a walk. The group get separated but there's no need for panic. Using walkie talkies they can keep each other updated on their progress meaning that both groups arrive back at base at the same time.

Another use leisure users might find is to give themselves an edge in a game of paintball where the whole team can keep each other updated on sightings of the opposition without alerting their opponents to their location.

Digital Radios
Analogue is tried and tested but the newest type of two way radio is digital. Digital walkie talkies can work in analogue mode allowing them to co-exist with your current setup but also offer feature such as extended battery life, noise cancelling for use in windy conditions, longer ranges, even text messaging and apps!

A useful feature some digital radios have is GPS and Man Down alerts which offers an intrinsically safe walkie talkie solution for lone workers in extremely remote areas.

Who are Crystal Radios?
Here at Crystal Radios, we only sell quality equipment. We know that if you choose to invest in walkie talkies you want it to last and to offer you the right features. It's pretty easy to buy walkie talkies online but we offer you advice and after-sales support that you won't get just buying normal walkie talkies from any old shop. From time to time we can also offer used equipment. That doesn't mean worn out and broken. It can simply mean we've used it for demonstrations or it's been hired out a couple of times. Which gets you a good deal on the latest technology. Why not get in touch if you have any questions, to find out what equipment we think would suit you best?
Contact Us today!
Should you wish to discuss your specific requirements then please call one of our sales staff and contact us at Two-way Radio via mobile on 01527 872 777 or freephone on 0800 028 6261. Please note our prices include free programming. Price Promise on all mobile radios!.

The new IC-F5012 mobile transceiver series is the successor to Icom's best selling IC-F110S series ..
Motorola DM1400 includes: Motorola DM1400 UHF or VHF mobile radio body Motorola user guide ..
Show:
Showing 1 to 3 of 3 (1 Pages)