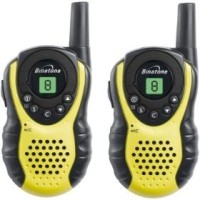 LEISURE RADIOS
Crystal Radio Systems are the leading online suppliers of walkie talkies. These type of radios are ideal for all leisure pursuits for example skiing, cruising, rambling, beach holidays, days out at theme parks etc. Should you wish to discuss your specific requirements then please call one of our sales representatives. All our walkie talkies come complete with a 1 year warranty. Details regarding the range can be found on the FAQ section at the top of our site. Call 08000286261 should you have any queries.

* Some competitors sell these type of radios in bundles of 4, 6 or 8 - this is a marketing ploy. Providing you buy the same brand of radios, you can buy multi-packs of 2 and they will all work together.

* Please note we do not recommend leisure radios for business users. For further details call our sales department on 08000286261.

There are a number of leisure activities where quick and easy contact with other members of the activity over large distances is necessary. Mobile phones could conceivably be used, but they lack the immediacy that two-way radio communication can provide. Leisure radios (or walkie talkies as they are commonly known) are ideal for people keeping in touch within a relatively close distance.

Find out more about Commercial Walkie Talkies.

On camping trips where groups are trekking through dense forests, small radios provide the ideal means of keeping in touch with others of the same group. If the radios are digital, then several simultaneous conversations can take place, just as if the group was all together. The same applies for family holidays when various members of the family might decide to go out exploring the immediate vicinity.

Leisure radios can be purchased in bulk, usually in packs of two. Some companies might offer bundles of four, eight, or more, saying that buying a large bundle at one time will ensure compatibility. This can often be a marketing strategy designed to make you spend more. The simple truth is that purchasing multiple two-packs will ensure exactly the same degree of compatibility.

You should choose your leisure radios carefully. Different models can have different ranges. If you need two-way communications for say, a game of paintball, then a relatively short communication range will likely be fine. If the people you need to keep in touch with are likely to be spread out a lot more, then you will need walkie talkies that can cover longer distances. If you have any questions, please get in touch today.



Show:
Showing 1 to 7 of 7 (1 Pages)