PRICE PROMISE
We are confident that should you find any price online that is lower than the price displayed on this website and of course is a genuine website selling like-for-like products (not Grey Imports) then we will endeavour to match or even beat that price.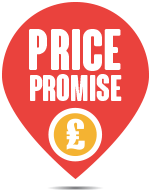 Please send a link or contact us with details of our competitors prices along with your contact details and we will verify the price and contact you.

The Hytera BD305LF is a compact DMR licence free two-way radio.
The Hytera BD305LF is a digital / analogue handportable radio which we feel is an ideal upgrade radio for those existing users who are using analogue handportable radios.
Utilising the dual technology of Digital and Analogue modes the radio can be programmed to talk to your existing unlicenced radios from channels 1-8 and channels 9-16 are set up in digital mode. Therefore these radios can be used with your existing fleets and the upgrade to digital can be achieved by simply changing the channel.
Dimensions: 101 x 49 x 25.8mm, 140g (with 2200mAh battery & antenna)
Dual mode (analogue & digital)
48 channels, 3 zones
64 contacts in digital mode
12.5/25kHz selectable channel spacing
16 hour battery life (digital mode) on a 5-5-90 duty cycle
Digital voice call
Scan (analogue channel only or digital channel only)
One touch call
MIL-STD-810 C/D/E/F/G standards
IP54 Compliance
TDMA Direct Mode
Analogue & Digital Mixed Channel Receiving
Emergency Alarm (via programming)
VOX