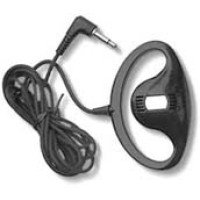 EARPIECES
Please see below our varied selection of earpieces, earpiece microphones, speaker mics and headsets. If you do not see what you are looking for, please call us for advice. If you want to know if a certain type of earpiece will fit the radio you have, then the best way to find this out is to locate your radio on our website from the Business radio or Leisure radio section, click on to the product and then scroll down where there will be a display of all the equipment that is available in that fitting. If you are only ordering earpieces, please let us know the make and model of the radio it needs to fit.
Walkie talkies provide a necessary, secure communication method where mobile phones aren't suitable for the working environment. Despite numerous advances in smartphone technology, there are a lot of workplaces where phones aren't useful for ensuring people can communicate quickly and effectively.

Noisy workplaces, such as building sites, sporting events, nightclubs, music events, ports and airports are where you are more likely to need a walkie talkie. Emergency services, the police, military and mountain rescue also use walkie talkies, since they need reliable communications that won't fail in remote areas. Two-way radio is also useful where a direct, discreet two-way communication system is essential for directing television, movie, news and radio production.

Most walkie talkies blast out radio messages using a loudspeaker, making them obtrusive and a nuisance in noisy environments, since users might have to ask the other person to repeat a radio message. With earpieces, sending and receiving messages gets simpler for everyone.

Earpieces For Walkie Talkies
An earpiece makes it easier to hear every message, whilst also making each message you send clearer since most earpieces for walkie talkies also come with a microphone. We have a wide range of options suitable for popular walkie talkie brands, including Motorola Ear Pieces.

Walkie talkie earpieces come in all shapes and sizes. Since two way walkie talkies are often used when those using them need hands-free communication, the immediate benefit is that you can clip the walkie talkie to your clothes and talk or receive, or both, using the earpiece and mic.

Some earpieces, such as the Vertex Noise Cancelling Speaker microphone, reduce background noise whilst allowing the user to attach the speaker/mic to a top pocket or on a coat. With a simple push to talk button, you can respond quickly, instead of picking up the walkie talkie every time you receive a message.

Whereas others, like the MP3 style covert earbud lightweight earpiece and PTT microphone, are so small and discreet, it won't be obvious that the user is carrying a walkie talkie. It will look like the person using this is only listening to music, which is the impression some companies need to give, depending on the operating environment.

When selecting an earpiece and mic for a walkie talkie, there are several things you need to consider. Think about the working environment. How noisy is it? Is your team indoors, outdoors, or both? Is there a risk the device could get damaged? How important is it that they can use a walkie talkie handsfree?

Once you have an idea what you need, check the options on this page and shortlist your favourites for the task at hand. Or visit our guide to learn more and find a recommendation. It is also useful to make sure they are compatible with the walkie talkie devices you have - unless you are buying them together - which is always something we can help you with. Just give us a call on 08000286261 or 01527871777, and we can pair the right earpiece with the correct walkie talkie.

Each radio product on our website also shows the equipment it works with, so if you are buying an earpiece with a walkie talkie then selecting the right one should be simple. Please give us a call if there is anything the team at Two Way Radio can help with: 08000286261 or 01527871777 (on a mobile).